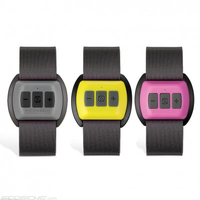 RHYTHM Heart Rate Monitor
Rhythm heart rate monitor attaches to your forearm for full wireless communication with your device. Uses an App to manage your workout metrics.
Purchasing information »Website »
| Sensor | Measures | Units | Range |
| --- | --- | --- | --- |
Thanks!
Thank you for contributing to the Wolfram Connected Devices Project.

All submissions are reviewed by our curation team. If approved, an update will appear on the site soon after.
OK
| | |
| --- | --- |
| Communication Protocol | |
| Power Source | |
| Battery Life (Standby) | |
| Battery Life (Active) | 6 h |
| Form Factor | armband |
| Length | 2 in |
| Height | 0.5 in |
| Width | 2.125 in |
| Weight | 0.0625 lb |
| Standalone | yes |
| Price Range | $$ |
| Data Storage Size | |
| Data Export Format | |
| Operating System Compatibility | iOS 5.1 or higher, Android smartphones Gingerbread 2.3.3 or higher, Android tablets Honeycomb 3.0 or higher |
| Certifications | |
| Product Manual | Manual » |
| API Information | |
| Spec Sheet | |
Connection Information
Related Apps
Related Devices
Show More (3)
Show Less