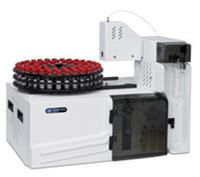 Atomx Automated VOC Sample Prep System
Combines an Autosampler and Purge and Trap into a single instrument for the analysis of VOCs in soils and waters.
Purchasing information »Website »
| Sensor | Measures | Units | Range |
| --- | --- | --- | --- |
Thanks!
Thank you for contributing to the Wolfram Connected Devices Project.

All submissions are reviewed by our curation team. If approved, an update will appear on the site soon after.
OK
| | |
| --- | --- |
| Communication Protocol | |
| Power Source | |
| Battery Life (Standby) | |
| Battery Life (Active) | |
| Form Factor | benchtop |
| Length | 23.3 in |
| Height | 26.5 in |
| Width | 32.7 in |
| Weight | 95 lb |
| Standalone | |
| Price Range | $$$$$$$ |
| Data Storage Size | |
| Data Export Format | |
| Operating System Compatibility | |
| Certifications | |
| Product Manual | |
| API Information | |
| Spec Sheet | |
Connection Information
Related Apps
Related Devices