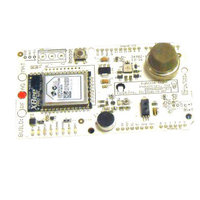 Sensor Mote Air Quality Shield
Sensor mote or board with sensors for air pressure, light, motion, humidity, temperature, and air quality plus a microphone.
Purchasing information »Website »
| Sensor | Measures | Units | Range |
| --- | --- | --- | --- |
Thanks!
Thank you for contributing to the Wolfram Connected Devices Project.

All submissions are reviewed by our curation team. If approved, an update will appear on the site soon after.
OK
| | |
| --- | --- |
| Communication Protocol | USB,XBee,ZigBee |
| Power Source | AC power |
| Battery Life (Standby) | |
| Battery Life (Active) | |
| Form Factor | component |
| Length | |
| Height | |
| Width | |
| Weight | |
| Standalone | no |
| Price Range | |
| Data Storage Size | |
| Data Export Format | |
| Operating System Compatibility | |
| Certifications | |
| Product Manual | |
| API Information | |
| Spec Sheet | |
Connection Information
Related Apps
Related Devices